About Us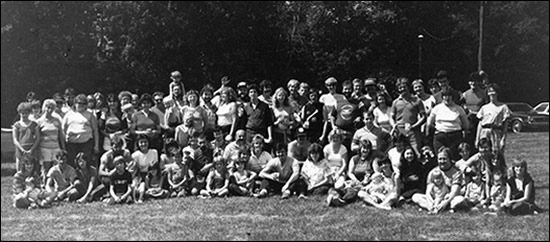 The Greenleaf Company Picnic 1986

Greenleaf's Mission
Greenleaf Dollhouses mission is to continue to make dollhouses and miniature collecting an affordable hobby for all to enjoy while providing products that are fit for a king! We are also committed to provide an online resource that welcomes new people into the world of miniatures and a platform for the season veterans to share their knowledge.
Award Winning Design in Miniatures
Greenleaf is known world wide as an innovator in style and design. Being as such, we have received recognition amongst miniature organizations, design institutions and hobby associations. Our proudest accomplishment is the outstanding feed back we receive from people like you who actually use our products, because at the end of the day, it's you who we here at Greenleaf are working for!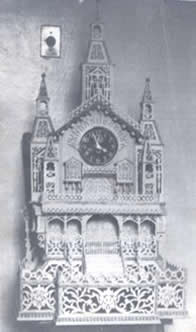 The History of Greenleaf Dollhouses
The chain of events that was to become Greenleaf Steel Rule Die Corporation (Greenleaf SRD) began when the plans for this Church wound up in the 10 yr. old hands of Anthony W. Roberts. Diligence, scrap wood, a hand saw and mother time brought change to his little corner of the universe. His project was the talk of the neighborhood and an interested friend's houseguest was brought by to see his handiwork. Mr. Wiley was his name, making dies was his game, he offered 12 year old Anthony a job on the spot.
1915 was the first year Standard Folding Carton had two die makers and as time passed by, the apprentice became the master. The 30s were hard on most of them, but not Anthony, he had all the overtime he could stand. He saved his money and dreamed of starting his own business. In the spring of 1947, he made his move and opened Greenleaf SRD in a cow barn in upstate Schenevus, NY.
More time passed, the generations changed, and so did Greenleaf. The business, then being run by his son Dean, became the world's largest manufacturer of die cut doll house kits which were marketed under the well known name of Greenleaf Products. In 1986, Dean decided to sell off this part of the business to outside interests, but Greenleaf SRD was contracted to continue on as the manufacturers until 1992. At this point Greenleaf Products started down a long and twisted trail which led to several name changes and owners.
Meanwhile, time rolled by and the generations changed again. With his grandson, Dean Jr., now running the company, Greenleaf SRD added additional services such as silk screening, laminating and high speed packaging. Even though custom manufacturing has always been the bread and butter of the operations, we did miss being part of the miniature community, so in 1993 we came out with a line of dollhouses which we market under the name Corona Concepts. The Corona line has similar appeal, offering high quality and a large variety of styles and sizes. Many of the current Corona houses are of a more simple design and appeal to entry-level consumers while the Greenleaf houses are more intricate.
As luck would have it, in the winter of 2002 Greenleaf SRD was able to re-acquire the Greenleaf line which was then being marketed under the name of Falls Wood Products. We are currently investing in re-tooling and refining the dies and designs of the Greenleaf Dollhouse line so that the houses can be re-released with the same quality and reliability the Corona Concepts line is well-known for. With the combined lines, Greenleaf and Corona meet the needs of the beginning crafter to the more serious miniature enthusiasts. Both lines will now be manufactured under exacting standards in upstate New York and will provide an exciting and satisfying craft and collectible experience with the widest variety of choice for customers.